"Constructive Intercultural Management" International Conference at the Turkish-German University
---
Prof. Ernst Struck (TDU) and Prof. Christoph Barmeyer (University of Passau) organized a DAAD-funded international conference entitled "Towards Constructive Intercultural Management. A conference on research approaches and perspectives". The opening speech was given by the TDU Rector Prof. Halil Akkanat and the President Prof. Rita Süssmuth. Prof. Ernst Struck started the conference with an opening presentation about TDU and the double master program in intercultural management and Prof. Christoph Barmeyer introduced the research approach of constructive intercultural management.
Internationally renowned researchers from Turkey, Great Britain, Germany, France, Sweden, Austria, Switzerland and South Africa as well as doctoral students and students of the double master program "Intercultural Management" of TDU participated in the conference. They presented and discussed the state of research from different disciplinary, paradigmatic, thematic, and methodological perspectives. The focus was also on cultural pluralism in the sense of multiple cultures, dynamic aspects of interculturality in organizations, as well as practical references.
International participation
Many international scholars participated in the conference held at TDU. Prof. Sonja Sackmann from the Bundeswehr University in Munich pointed out in her presentation the cultural perspectives in intercultural management and added that intercultural management is highlighted by the value of a real culture. Afterwards, Prof. Lena Zander from Uppsala University made a presentation on Constructive Intercultural Management in the Workplace. This was followed by a poster session in which junior researchers Madeleine Bausch, Sina Grosskopf, Constanze Ruesga Rath, Tuzienka Chenet, Birgit Gabriel, Özge Çetin and Selim Çalık presented their research findings.
In the last session of the first day, Prof. Claude-Hélène Mayer from the University of Johannesburg held an online presentation on process management of a multinational German technology company in South Africa in the context of Industry 4.0 (digitalization of industrial production).
The first day of the conference ended with a presentation by Dr. Martina Maletzky on mobile lecturers at TDU as an intercultural training space.
Boat trip on the Bosporus
The evening was finished with a boat trip on the Bosporus. The boat trip, sponsored by Siemens, started at the port in Beykoz. The guests enjoyed the wonderful short trip and were able to see the most beautiful parts of Istanbul from Bosporus.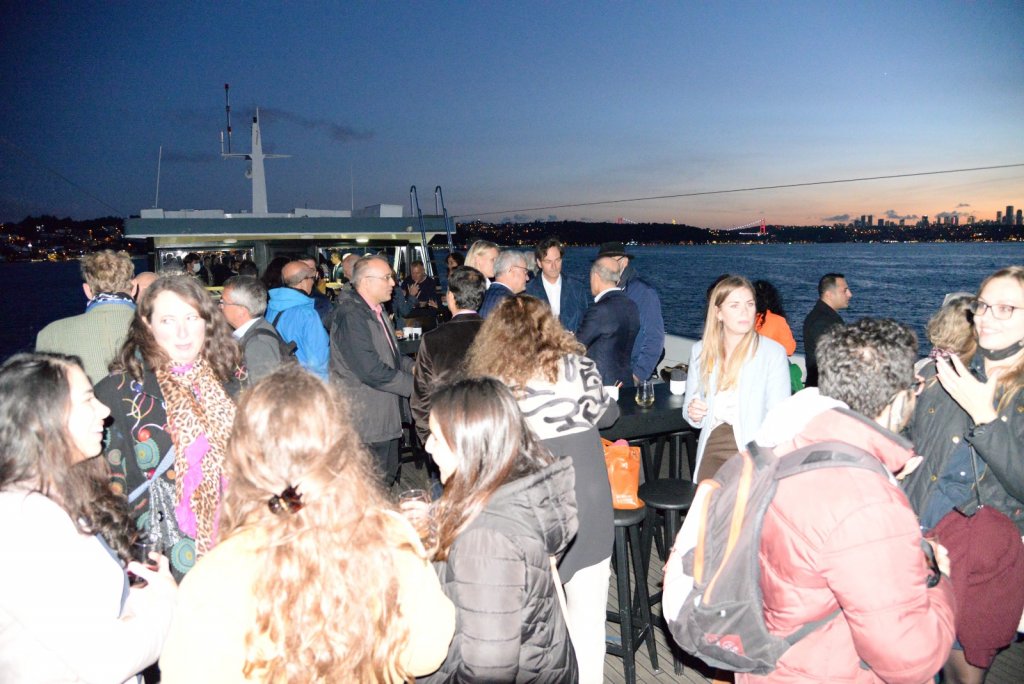 Common intercultural language in management
The second day of the conference started with the joint presentation by Prof. Dilek Zamantılı Nayır from TDU and Assist. Prof. Dr. Alessandra Vecchi from Bologna University entitled "Change of Border Keys: Turkish Biculturalism in German Multinational Subsidiaries". The presentation by Prof. Syeda Arzu Wastis from Sabancı University entitled "Common Language of Trust" was followed by the presentation by Prof. Eric Davoine from Friborg University on the role of human resources in socio-cultural German-Swedish integration of a multinational company.
A panel on human resource management was held moderated by Assist. Prof. Levent Yilmaz and Dr. Fritz Audebert, HR Directors Betül Çorbacıoğlu from Mercedes, Aslı Kunur from Siemens and Umut Güvenç from Bosch. The panel addressed topics such as the attractiveness of Turkey and Istanbul for young talent, the impact of digitalization on recruitment processes, and diversity management.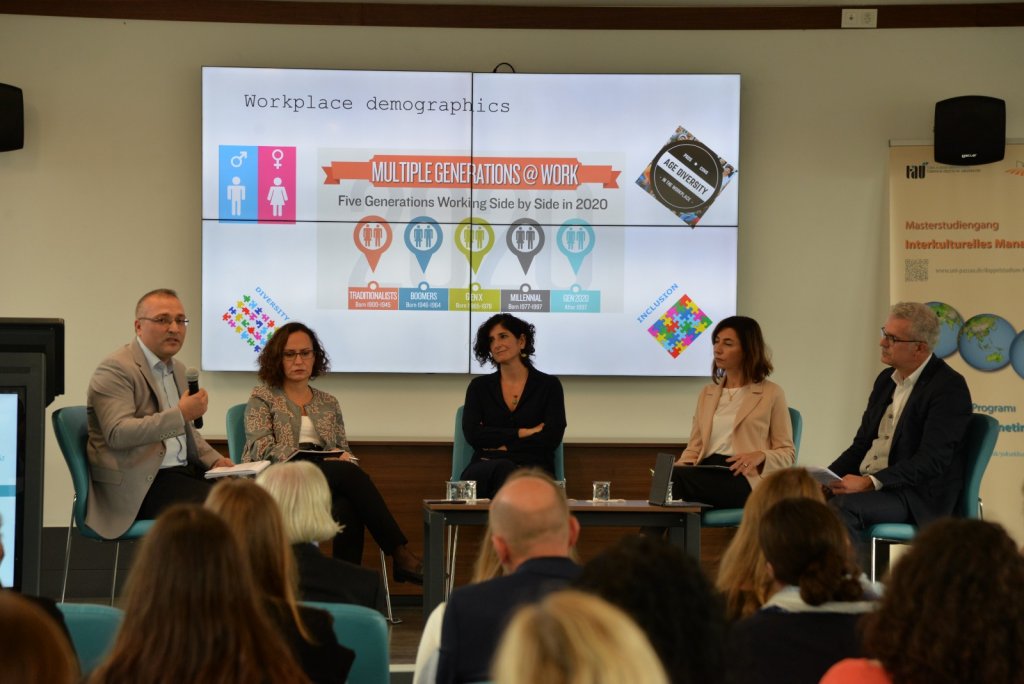 The future of the intercultural approach to human resource management
From Brunel Business School, Prof. Mustafa Özbilgin held a presentation on the role of exceptional leaders in promoting equality, diversity and inclusion.
Prof. Sylvie Chevrier from Gustave Eiffel University focused on intercultural research and what value it has for bicultural teams, while Dr. Ödül Bozkurt from Sussex University and Prof. Mike Geppert from Friedrich Schiller University gave a joint presentation on the culture and future of international management research.
The final presentation was held jointly by Prof. Günter K. Stahl from University of Vienna, Prof. Ernst Struck from TDU, and Prof. Christoph Barmeyer from University of Passau, on the possible future research directions of constructive intercultural management.